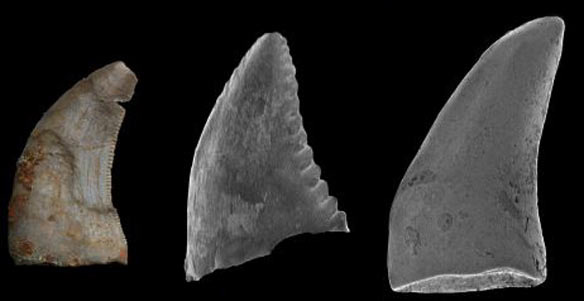 Fabien KNOLL, becario postdoctoral del Departamento de Paleontología del Museo Municipal de Ciencias Naturales [Staatliches Museum für Naturkunde] de Stuttgart (Alemania) y José Ignacio RUIZ-OMEÑACA, del grupo Aragosaurus, presentaron en el 65th Annual Meeting of the Society of Vertebrate Paleontology, el trabajo titulado "Dientes de terópodo del Berriasiense de Anoual (Marruecos)".
El trabajo fue presentado el viernes 21 de octubre en la Sesión de paneles B (de 15:30h a 17:00h). El resumen del mismo ha sido publicado en la revista Journal of Vertebrate Palaeontology (volumen 25, 3, suplemento), y está accesible en la sección de publicaciones de esta web.
Mapa mostrando la situación del yacimiento de Anoual (en rojo las montañas del Alto Atlas).
El estudio de 29 dientes aislados recuperados en el lavado-tamizado de sedimentos del yacimiento, ha permitido diferenciar cuatro taxones: terópodos indeterminados, celurosaurios indeterminados, manirraptores indeterminados (morfotipos 1, 2 y 3) y velocirraptorinos indeterminados (morfotipos 1, 2 y 3). Los velocirraptorinos descubiertos en Anoual representan los más antiguos de África.
La mayoría de los dientes proceden de dinosaurios de tamaño muy pequeño (el diente más grande de todos, identificado como Maniraptora indet. (morfotipo 1) mide sólo 14 mm de altura), y se ha calculado una longitud total de tan sólo 50 cm para el dinosaurio dueño de los dientes identificados como Velociraptorinae indet. (morfotipo 1).
El póster presentado puede descargarse
aquí
.
El resumen del trabajo puede descargarse
aquí
.
LUGAR Mesa, Arizona, EE.UU.
Hay más noticias