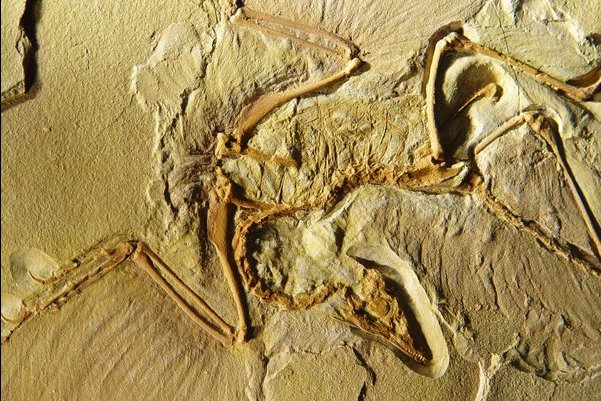 Archaeopteryx es uno de los fósiles más conocidos y estudiados, sin embargo las nuevas metodologías está permitiendo obtener una nueva información. Los ejemplares conocidos provienen de las calizas de Solenhofen (Jurásico Superior de Alemania). Cuando se encontraron los primeros ejemplares en el siglo XIX estaba clara su posición en las aves por la impresión de las plumas. Hoy conocemos que también algunos dinosaurios terópodos tenían plumas. A pesar de esto, todos los investigadores están de acuerdo que se trata del ave más primitiva. El nuevo estudio liderado por U. Bergmann demuestra que las impresiones de la pluma son en realidad son verdaderas plumas. Otro aspecto importante es el enriquecimiento de Zinc y Cobre en las partes blandas .
Además de estos resultados, lo interesante de este trabajo es la puesta en marcha de una técnica que permite analizar concentraciones de partes por millón, lo que abre una puerta para el estudio de pequeñas concentraciones que pudieran dar claves en la investigación de las partes blandas y los procesos tafonómicos que han sufrido los organismos fosilizados. Sin duda, vamos a ver muchos trabajos con el Synchrotron
El resumen completo del artículo es:
Evolution of flight in maniraptoran dinosaurs is marked by the acquisition of distinct avian characters, such as feathers, as seen in
Archaeopteryx
from the Solnhofen limestone. These rare fossils were pivotal in confirming the dinosauria-avian lineage. One of the key derived avian characters is the possession of feathers, details of which were remarkably preserved in the Lagerstätte environment. These structures were previously simply assumed to be impressions; however, a detailed chemical analysis has, until now, never been completed on any Archaeopteryx specimen. Here we present chemical imaging via synchrotron rapid scanning X-ray fluorescence (SRS-XRF) of the Thermopolis Archaeopteryx, which shows that portions of the feathers are not impressions but are in fact remnant body fossil structures, maintaining elemental compositions that are completely different from the embedding geological matrix. Our results indicate phosphorous and sulfur retention in soft tissue as well as trace metal (Zn and Cu) retention in bone. Other previously unknown chemical details of Archaeopteryx are also revealed in this study including: bone chemistry, taphonomy (fossilization process), and curation artifacts. SRS-XRF represents a major advancement in the study of the life chemistry and fossilization processes of
Archaeopteryx
and other extinct organisms because it is now practical to image the chemistry of large specimens rapidly at concentration levels of parts per million. This technique has wider application to the archaeological, forensic, and biological sciences, enabling the mapping of "unseen" compounds critical to understanding biological structures, modes of preservation, and environmental context.
La referencia completa es: Bergmann, U. et al 2010. Archaeopteryx feathers and bone chemistry fully revealed via synchrotron imaging. PNAS, 6pp. (en prensa)
LUGAR
Hay más noticias