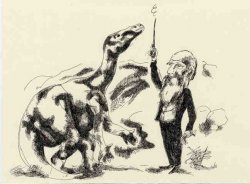 Los iguanodontes de Bernissart fueron uno de los descubrimientos de dinosaurios europeos más importantes del siglo XIX. En unas minas de carbón del Cretácico inferior de esta localidad de Bélgica se encontraron docenas de esqueletos articulados del gran ornitópodo
Iguanodon
. Aprovechando la inauguración de la Nueva Galería de la Evolución del Museo de Bruselas donde están expuestos se celebra el congreso Charles Darwin y los iguanodontes de Bernissart.
El congreso se va ha celebrar durante toda esta semana. Se han preparado dos secciones: Paleontología de Vertebrados y evolución. Nuevas perspectivas de Bernissart y otros ecosistemas del Cretácico Inferior. Además se realizarán dos visitas a yacimientos. Uno en la localidad de Strud, famoso por su fauna de vertebrados del Jurásico Superior, que incluye placodermos, actinopterigios, sarcopterigios, tetrápodos primitivos etc. La segunda visita es a la cantera de Hautrage, afloramiento de edad similar a donde se encontraron los iguanodontes de Bernissart y que tiene una rica asociación de plantas fósiles.
Los aragosaureros presentamos varias comunicaciones que a lo largo de la semana iremos colgando en la Web
Azanza-Moreno, M., Gasca, J. M. & Canudo, J. I. 2009. New data on the Valanginian-Hauterivan reptile ootaxa of the Iberian Range (NE of Spain)
Badiola, A., Canudo, J. I. y Cuenca-Bescós, G. New Early Cretaceous multituberculate fossils from the Iberian Peninsula.
Díaz-Martínez, I., Pérez-Lorente, F., Pereda-Suberbiola, X. & Canudo, J. I. 2009. Iguanodon-like footprints from the Enciso Group (Aptian, Lower Cretaceous) of La Rioja (Cameros Basin, Spain)
Gasca, J. M., Moreno-Azanza, M. & Canudo, J. I. 2009. The dinosaur assemblage of the El Castellar Formation (Hauterivian-lowemost Barremian, Teruel, Spain)
Pereda-Suberbiola, X., Ruiz-Omeñaca, J. I., Canudo, J. I., Torcida, F., Sanz, J. L., 2009. Lower Cretaceous dinosaurs of Spain: an overview based on skeletal remains.
LUGAR Bruselas, Bélgica
Hay más noticias