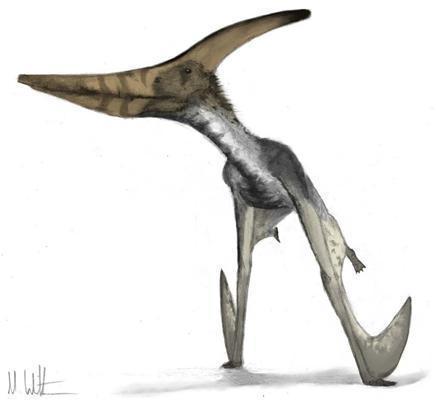 Con esta estrategia los pterosaurios se apoyaban en los músculos de sus alas y de esta manera eran capaces de alcanzar a una cierta altura. El gran tamaño de sus alas, les impedía batirlas en el suelo, tal y como hacen las aves. Los investigadores Witton y Habib han desarrollado esta hipótesis tras observar como algunos murciélagos utilizan una técnica similar. Además han investigado como sería la técnica del vuelo, proponen que podrían batir rapidamente sus alas para alcanzar velocidades superiores a los 120 km/h durante unos pocos minutos, para luego ir planeando durante cientos de kilómetros. De esta manera eran capaces de recorrer largas distancias con un mínimo gasto enérgetico
Otra de las líneas que desarrollan hace referencia a los pterosaurios gigantes que vivieron en el Cretácico Superior. Inciden sobre la propuesta que eran animales incapaces de volar. Aunque apuntan que el tamaño de estos animales se había sobrevalorado, de manera que las ejemplares más grandes podrían haber medido entre los 10 y 11 metros y un peso entre 200 y 250 Kilos.
La referencia completa es:
Witton MP, Habib MB (2010) On the Size and Flight Diversity of Giant Pterosaurs, the Use of Birds as Pterosaur Analogues and Comments on Pterosaur Flightlessness. PLoS ONE 5(11): e13982.
LUGAR
Hay más noticias