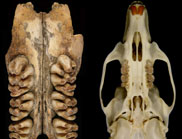 Los resultados más interesantes son que han encontrado 13 especies de roedores, 11 de las cuales se han definido por primera vez en estos yacimientos; que una de las especies es la rata gigante, un roedor de la familia de los múridos, como nuestros ratones de campo, ratones caseros, ratones trigueros y ratas; y finalmente que la fauna de Timor sobrevivió a la ocupación de las islas por los humanos hace unos 40.000 años, pero las especies de mayor tamaño desaparecieron hace unos 2.000 años debido a la pérdida masiva de los bosques.
Esta investigación se ha publicado en un extenso artículo de 80 páginas en el que se describen las especies de roedores de diversos yacimientos de Timor. Los primeros representantes del género
Coryphomys
, fueron ya descritos por el gran paleontólogo alemán de los años 1930, Schaub, quien definió la especie
C. buehleri
, "hermana" pequeña de la nueva especie gigante, C. musseri.
La referencia completa es la siguiente: Quaternary murid rodents of Timor' by Ken Aplin of CSIRO and Kris Helgen of the Smithsonian Institution was published this week in the Bulletin of the American Museum of Natural History.
Para saber mas:
http://www.csiro.au/multimedia/New-Timor-rodents.html
LUGAR Timor
Hay más noticias