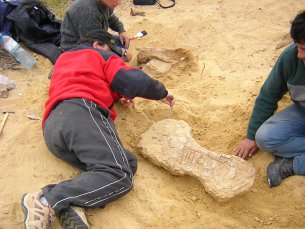 En este trabajo realizado en conjunto con investigadores de la Universidad de Comahue, con Leonardo Salgado a la cabeza, es el resultado de dos campañas de prospección en el área del Anfiteatro subvencionadas por el Endemas y la empresa Repsol. Se trata de una vasta área con gran belleza natural y que hasta el momento había sido muy poco prospectada. Afloran en sus cañadones una potente serie continental del Cretácico Superior donde son abundantes los restos de vertebrados. Dada la lejanía de los afloramientos con fósiles de caminos, la campaña fue especialmente dura al tener que estar acampados en una zona totalmente desértica.
Los restos más significativos se publican en Cretaceous Research, entre los que destacan una nueva especie de tortuga. La descripción formal se realizará en un trabajo próximo. Restos postcraneales de titanosaurios y dientes aislados de diferentes terópodos, destacando algunos de gran tamaño pertenecientes a posibles carcharodontosáuridos. Entre los peces cabe destacar el descubrimiento de grandes dientes de dipnoos, unos singulares peces con gran capacidad de vivir en zonas prácticamente desecadas. Aunque no se han publicado en esta revista encontramos espectaculares troncos de árboles, algunos de ellos hasta con las raíces. Puedes ver imágenes de estas campañas en nuestra
Galería de Fotos
El resumen del trabajo es: The first vertebrate remains from the Upper Cretaceous locality El Anfiteatro (northern Río Negro, Patagonia, Argentina) are described. Fossil remains were recovered in beds of Cerro Lisandro, Portezuelo, and Plottier formations. From the Cerro Lisandro Formation, remains of large fishes, dipnoans, titanosaur sauropod dinosaurs, and a variety of theropod dinosaurs (cf. Carcharodontosauridae, cf. Spinosauridae, cf. Abelisauria and Coelurosauria indet.) are reported. The Plottier Formation, in turn, has yielded remains of Chelidae turtles, crocodyliforms, titanosaur sauropods, theropods (cf. Carcharodontosauridae, Coelurosauria indet., cf. Unenlagiinae), and ornithopods. To date, the Portezuelo Formation has been the less prolific of all. Except for the record of a possible spinosaurid in the Cerro Lisandro Formation, the rest of the evidence obtained from El Anfiteatro is congruent with the record of other Patagonian sites where the Limayan and Neuquenian tetrapod associations were established.
La referencia completa es:
Salgado, L., Canudo, J. I., Garrido, A. C., Ruiz-Omeñaca, J. I., García, R. A., de la Fuente, M. S. Barco, J. L. y Bollati, R. 2009. Upper Cretaceous vertebrates from "El Anfiteatro" (Río Negro, Patagonia, Argentina. Cretaceous Research, 30, 767-784.
LUGAR Cipolletti, Río Negro, Argentina
Hay más noticias