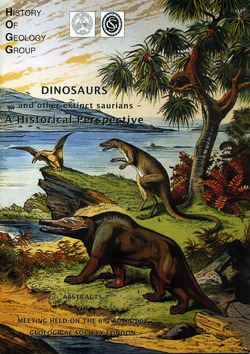 El congreso estaba organizado por Richard Moody (Kingston University), Eric Buffetaut (CNRS, Paris), David Martill y Darren Naish (ambos de la University of Portsmouth). El evento, que contó con el patrocinio de la Geological Society of London y la Geologists's Association, estuvo dedicado a los dinosaurios y otros reptiles mesozoicos, sus principales descubrimientos y su interpretación a lo largo del tiempo, poniendo particular énfasis en las personalidades que los estudiaron y en la influencia que ejercieron ciertos artistas y divulgadores en la percepción de estos animales del pasado.
Previamente al congreso (5 de mayo) se realizó una visita guiada a Sydenham, en los suburbios de Londres, para admirar las famosas esculturas de dinosaurios y otras criaturas en el parque de Crystal Palace. Las charlas tuvieron lugar en la sede de la Geological Society of London en Burlington House, en Piccadilly. Asistieron más de 60 personas, entre historiadores de la ciencia y especialistas de las ciencias naturales, procedentes de varios países de Europa, así como de Norteamérica y Asia. Se presentaron 26 comunicaciones orales y una docena de paneles (véase más abajo).
Los temas abordados fueron diversos. Se trató de la vida y obra de personalidades, como Benjamin W. Hawkins, Gideon Mantell y William Swinton, pero también de otras figuras relevantes aunque menos conocidas de la paleontología (o de la geología), como es el caso de Alan Charig, Giovanni Capellini, Gerhard Heilman, William P. Hunter o Guillermo Schulz. Se habló del legado en forma de colecciones paleontológicas de Alfred N. Leeds y de Faujas de Saint-Fond, de los primeros hallazgos de fósiles de espinosaurios y de reptiles voladores, y mucho mas...
LUGAR Londres, Inglaterra, Reino Unido
[Descarga el PDF relacionado]
Hay más noticias