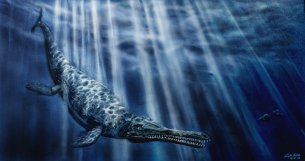 El fósil se encontró en 1994 durante las campañas de prospección previas a la construcción de las vías del AVE impulsadas por el Gobierno de Aragón. Los paleontólogos de la Universidad de Zaragoza que llevaron a cabo esta labor (C. Laplana, C. Gonzalvo y M. Soria), encontraron esquirlas de hueso que les condujeron hasta el lugar donde se hallaba un cráneo de cocodrilo conservado en varios nódulos de roca. Este cocodrilo habitó los mares hace unos 164 millones de años (Calloviense), durante el Jurásico Medio. Actualmente se encuentra en la Sala Lucas Mallada del edificio de Geológicas. Se trata del ejemplar de cocodrilo marino más antiguo y mejor preservado de la Península Ibérica.
Maledictosuchus riclaensis
, "cocodrilo maldito de Ricla", que así es como se ha llamado a este nuevo cocodrilo, debe su nombre al pueblo donde fue hallado y a los casi 20 años (de ahí la maldición) que ha tenido que esperar para ser estudiado en profundidad. En la magnífica reconstrucción realizada por nuestro aragosaurero José Manuel Gasca se puede ver como sería este animal.
Maledictosuchus
se conoce exclusivamente por el ejemplar de Ricla y se trata de un cráneo prácticamente completo, con una preservación excepcional. Pertenece a los metriorrinquidos, un grupo de cocodrilos marinos que se extinguieron en el Cretácico Inferior, hace unos 130 millones de años. Actualmente no existe ningún cocodrilo totalmente ligado a la vida acuática, sin embargo, los metriorrínquidos fueron los crocodilomorfos mejor adaptados al medio marino. Algunas de las adaptaciones con las que contaban eran extremidades en forma de aletas, cola larga y bilobulada parecida a la de los tiburones, el cuerpo, y sobre todo la cabeza, con formas hidrodinámicas, además de la pérdida de una armadura dérmica que está presente en los crocodilomorfos terrestres. El cráneo de
Maledictosuchus
también es hidrodinámico, con órbitas oculares enormes situadas a ambos lados de la cabeza y numerosos dientes de pequeño tamaño. Tendría una dieta fundamentalmente piscívora, aunque también podrían estar comer cefalópodos y otros invertebrados marinos.
Este espécimen es importante para comprender la evolución de este grupo de crocodilomorfos. La investigación, liderada por el grupo Aragosaurus, revela que
Maledictosuchus
es el miembro más basal y más antiguo de la tribu de los raqueosaurinos, un grupo de metriorrinquidos especializados, piscívoros y altamente adaptados a la vida en mar abierto.
Maledictosuchus
posee una morfología intermedia entre los metriorrinquidos basales y los miembros derivados de raqueosaurinos del Jurásico Superior.
Durante el Jurásico Medio, los metriorrinquidos fueron muy diversos en el oeste de Europa, especialmente Inglaterra y Francia, pero no se había descubierto hasta el momento ningún raqueosaurino. Por lo tanto, el estudio de este nuevo cocodrilo demuestra que durante el Jurásico Medio los metriorínquidos fueron más diversos de los que se creía y que su evolución hacia una dieta muy especializada y a la vida en mar abierto comenzó ya durante el Jurásico Medio, al menos 10 millones de años antes de lo que se creía. Sin embargo, no fue hasta el Jurásico Superior cuando estas adaptaciones fueran ventajosas y este grupo de metriorrinquidos dominó los mares del oeste de Europa.
La referencia completa es:
Parrilla-Bel J, Young MT, Moreno-Azanza M, Canudo JI (2013) The First Metriorhynchid Crocodylomorph from the Middle Jurassic of Spain, with Implications for Evolution of the Subclade Rhacheosaurini. PLOS ONE 8(1): e54275. doi:10.1371/journal.pone.0054275.
The research group Aragosaurus-IUCA Zaragoza University in collaboration with the University of Edinburgh, described a new Jurassic marine crocodile from Ricla (Zaragoza, Spain), which was recently published in the journal
PLOS ONE
.
Ricla is a small town known for its fossil abundance, especially marine invertebrate fauna of the Jurassic. The crocodile's fossil was discovered by C. Gonzalvo, C. Laplana and M. Soria (paleontologist from University of Zaragoza) in 1994. Prior to the construction of the AVE railway line that goes through the town, these paleontologist carried out a prospecting campaign to identify and delimit areas with high numbers of fossils, for either protecting or excavating. They found some fragments of bones that were preserved in darklimestone nodules. The fossil was prepared and came up from the nodules an exceptional preserved marine crocodile skull. This crocodile inhabited the seas about 164 million years ago, during the Middle Jurassic. Currently this fossil is the oldest and best preserved specimen of the Iberian Peninsula and is on permanent display at the "Sala Lucas Mallada del Museo Paleontológico de la Universidad de Zaragoza". The new crocodile is called Maledictosuchus riclaensis, "Damned crocodile from Ricla".in reference to the town where it was found and to all failed attempts to study this fossil during nearly 20 years.
Maledictosuchus belongs to a group of crocodiles that became extinct in the Early Cretaceous, approximately 130 million years ago, called metriorrinchids. There is currently no fully aquatic lifestyle crocodile, however, metriorrinchids were much better adapted to the marine environment. Some of these adaptations are hydrofoil-like forelimbs, bilobed long tail similar to that of the shark, body and head with hydrodynamic shapes, and the loss of dermal armor which is present in the terrestrial crocodilomorphs. Maledictosuchus has hydrodynamic skull, with very big lateral orbits and numerous small teeth and it's diet would be primarily piscivorous.
This specimen has important implications for our understanding of evolution of this group of crocodilomorphs. The research led by the group Aragosaurus reveals that Maledictosuchus would be the oldest and most basal member of the racheosaurini tribe, a group of specialized metriorrinchid crocodiles, piscivorous and highly adapted to open-sea lifestyle. Maledictosuchus represents a morphological intermediate between basal metriorhynchines and the derived Late Jurassic members of Rhacheosaurini
During the Callovian, metriorhynchids were highly diverse in Western Europe (in particular England and France), however, until now no rhacheosaurin specimens have been discovered. Therefore, the study of this new crocodile shows that the diversity of Middle Jurassic metriorhynchids was greater than previously realized, and the evolution of this group of crocodiles to a very specialized diet and life at open-sea began in the Middle Jurassic, at least 10 million of years earlier than previously thought. However, it was not until the Late Jurassic when these adaptations were advantageous and this metriorhynchid group dominated the seas of western Europe.
The complete reference is: Parrilla-Bel J, Young MT, Moreno-Azanza M, Canudo JI (2013) The First Metriorhynchid Crocodylomorph from the Middle Jurassic of Spain, with Implications for Evolution of the Subclade Rhacheosaurini. PLOS ONE 8(1): e54275. doi:10.1371/journal.pone.0054275.
LUGAR Zaragoza
Hay más noticias