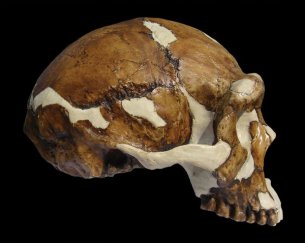 ¿Qué interés tiene esta datación?
Parece una broma, se oye a veces, los paleontólogos quieren que los restos humanos que recién han descubierto, sean los más viejos. En este caso unos fósiles hallados hace poco menos un siglo no son sospechosos de figurar en el elenco, así que lo que hay que aceptar, es que con las nuevas técnicas de datación estamos viendo, y esto permite situar muchos fósiles en su sitio, que varias especies de
Homo
coexistieron en Europa bastante antes del medio millón de años. Recientemente también los hombres de la Sima de los Huesos,
Homo heidelbergensis
, se dataron en algo más de 500.000 años (Bischoff et al., 2007).
Poco a poco se van llenando los vacíos del registro geológico que tanto preocuparon a Darwin. Es cuestión de tiempo, así como de una inversión continua y constante en la investigación y formación de nuevos investigadores.
Referencias
Bischoff, J.L., Williams, R. W, Rosenbauer, R. J., Aramburu, A., Arsuaga, J. L., García, N. & Cuenca-Bescós, G. (2007). High-resolution U-series dates from the Sima de los Huesos hominids yields kyrs: Implications for the evolution of the early Neanderthals. Journal of Archaeological Science, 34, 763-770.
Carbonell, E., Bermúdez de Castro, J.M., Parés, J.M., Pérez-González, A., Cuenca-Bescós, G. Ollé, A., Mosquera, M., Huguet, R., van der Made, J., Rosas, A., Sala, R., Vallverdú, J., García, N., Granger, D.E., Martinón-Torres, M., Rodríguez, X.P., Stock, G.M., Vergès, J.M., Allué, E., Burjachs, F., Cáceres, I., Canals, A., Benito, A., Díez, C., Lozano, M., Mateos, A., Navazo, M., Rodríguez, J., Rosell, J., Arsuaga, J.L. (2008): The first hominin of Europe. Nature, London452, 465-470.
Shen, G., Gao, X., Gao, B. & Granger, D.E. (2009): Age of Zhoukoudian Homo erectus determined with 26Al/10Be burial dating. Nature458, 198-200.
LUGAR Beijing, China
Hay más noticias