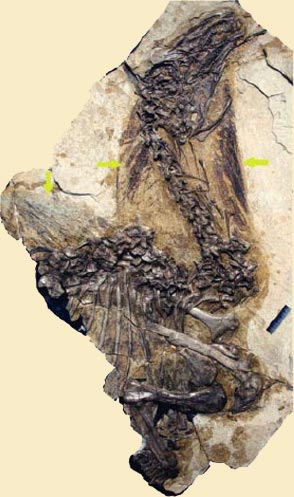 En los últimos años se han descritos varios ejemplares de dinosaurios de la Formación Yixian en China con la impresión de plumas fosilizadas. En estas plumas las las fibras estaban organizadas en haces o bien presentaban algún tipo de ramificación, o poseían una estructura más compleja y semejante a las plumas modernas. Sin embargo las "protoplumas" del nuevo ejemplar de Beipiaosaurus son diferentes al presentar identificar fibras simples, de 2 mm de grosor y apariencia rígida, compuestas de un único filamento de entre 10 y 15 cm.
Los investigadores Prum y Brush en el año 2002 propusieron como debió producirse el origen y evolución de las plumas. Propusieron diferentes estadios en esta evolución, de los cuales no se conocía el Estadio I, el punto de partida hipotético de la evolución plumífera. Se trata de una espina, hueca o rellena de "pulpa". Su función es protectora o defensiva, pero se convertirá después en la cubierta "desechable" de la pluma actual. Encontrar, por ejemplo, un pequeño dinosaurio primitivo cubierto de esas espinas, sería un descubrimiento magnífico. Estrictamente no son espinas las protoplumas de Beipiaosaurus, se parece más a fibras decorativas más que defensivas, pero estructuralmente son semejares a lo propuesto teóricamente. Por tanto se han encontrado fósiles de todas las etapas morfológicas predichas en los modelos de desarrollo de las plumas.
La referencia completa es:
Xu, X., Zheng, X. & You, H. 2009. A new feather type in a nonavian theropod and the early evolution of feathers. Proceedings of the National Academy of Sciences USA, 106, 3, 832-834.
All described feathers in nonavian theropods are composite structures formed by multiple filaments. They closely resemble relatively advanced stages predicted by developmental models of the origin of feathers, but not the earliest stage. Here, we report a feather type in two specimens of the basal therizinosaur Beipiaosaurus, in which each individual feather is represented by a single broad filament. This morphotype is congruent with the stage I morphology predicted by developmental models, and all major predicted morphotypes have now been documented in the fossil record. This congruence between the full range of paleontological and developmental data strongly supports the hypothesis that feathers evolved and initially diversified in nonavian theropods before the origin of birds and the evolution of flight.
LUGAR Lianonig, China
Hay más noticias