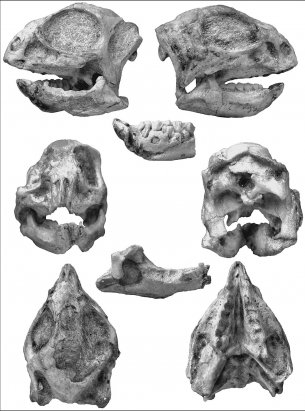 El holotipo de Gobiceratops proviene de la Formación Baruungoyot en el Cretácico Superior del sur de Mongolia. Se trata de un cráneo completo que en la fotografía se puede ver en todas las vistas. Se trata de un neoceratopsio de muy pequeño tamaño, posiblemente sería un ejemplar joven, pero ya maduro. Sus huesos están bien fusionados por tanto no era un individuo infantil, que podría pensarse por su pequeño tamaño. Su enorme orbita indica que tenía una buena visión, incluso podría tener hábitos seminocturnos.
Este nuevo dinosaurio incluye en la familia Bagaceratopidae, que esta relacionada con los grandes ceratopsios del Cretácico Superior de Norteamérica. Estos dinosaurios cuadrúpedos tenían grandes cuernos y una enorme cabeza. El pequeño Gobiceratops sería un representante primitivo de los ceratopsios con una cabeza pequeña y sin cuernos que solo vivieron en Asia Central.
La referencia completa es: Alifanov, V. R. 2008.The tiny horned dinosaur Gobiceratops minutus gen. et sp. nov. (Bagaceratopidae, Neoceratopsia) from the Upper Cretaceous of Mongolia. Paleontologica Journal, 42, 6, 621-633.
LUGAR Gobi, Mongolia
Hay más noticias