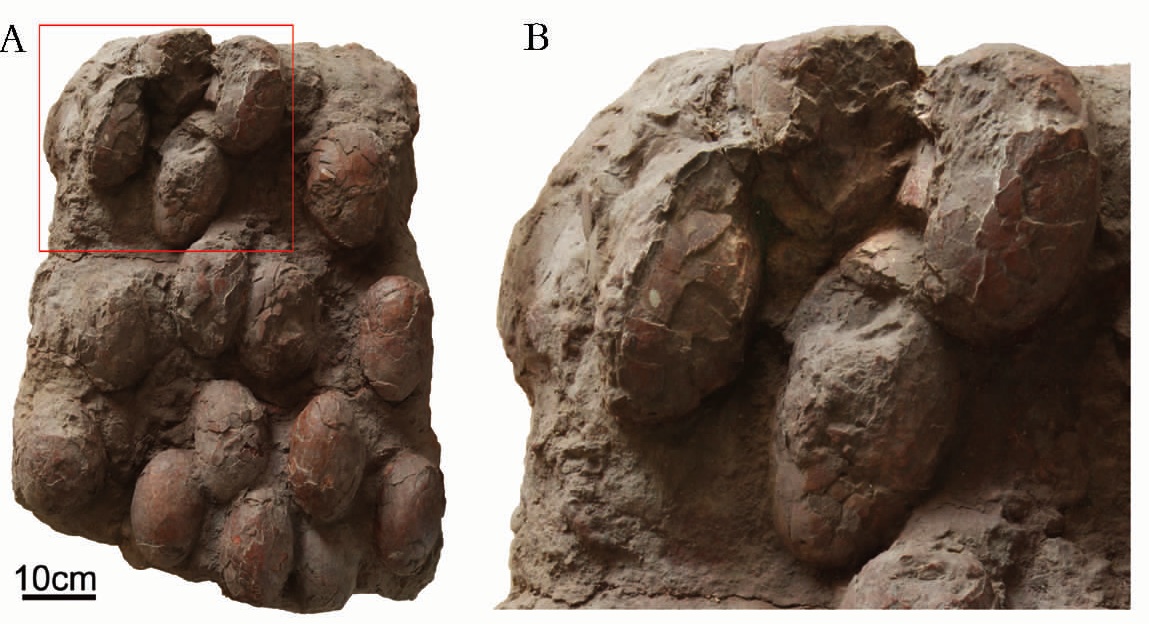 En esta publicación se hace un repaso del registro de icnitas de ornitópodos del Cretácico Superior de la Formación Zhutian. Esto les permite describir una nueva icnoespecie que denominan Hadrosauropodus nanxiongensis. La asignan a hadrosauridos por su morfología de tres dedos con un final de los dedos redondeado. Además son icnitas más o menos igual de anchas que de largas. Pero sin duda lo que más llama la atención es la interpretación de los hundimientos de los huevos del nido de la fotografía como resultado de un pisotón de un hadrosáurido.
Se trataría de la primera evidencia de una pisada en un nido con huevos intactos, ya que anteriormente se había interpretado la destrucción de algunos nidos como resultado del pisoteo, pero en estos casos solo quedaban cáscaras de huevo. El nido contiene 16 huevos, el pisotón esta en esquina y posiblemente se debió a un accidente como apuntan los investigadores. Los huevos se pueden atribuir a Youngoolithus que se suele relacionar con saurópodos y por tanto nada que ver con el productor de la pisada.
La referencia completa del trabajo es: Xing, L.-d., Harris, J. D. & Dong, Z-m. 2009. Ornithopod (Dinosauria: Ornithischia) tracks from the Upper Cretaceous Zhutian Formation in the Nanxiong basin, Guangdong, China and general observations on large Chinese ornithopod footprints. Geological Bulletin of China, 28, 7, 829-843.
LUGAR China
Hay más noticias