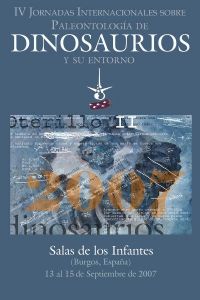 Las Jornadas están organizadas por el
El Colectivo Arqueológico-Paleontológico de Salas,
CAS
y se van a celebrar en Salas de los Infantes del 13 al 15 de Septiembre del 2007 en Salas de los Infantes (Burgos).
Por estas jornadas han pasado en las jornadas anteriores algunos de los mayores especialistas mundiales en dinosaurios, incluyendo a
prácticamente
todos los españoles. Este año impartirán charlas Luis
Chiappe
(Natural
History
Museum
, Los
Ángeles
, EE.UU.), Julio
Company
(Universidad de Valencia),
Fabio
Dalla
Vecchia
(Museo Paleontológico de
Monfalcone
, Italia),
Gerard
Gierlinski
(
Geological
Museum
of
the
Polish
Geological
Institute
de
Varsovia
), Pascal
Godefroit
(
Musée
des
Sciences
Naturelles
de
Bruxelles
,
Belgica
),
Martin
Lockley
(
University
of
Colorado
at
Denver
, EE.UU.), Rafael Royo (
Dinópolis
) y José Luis
Sanz
(Universidad Autónoma de Madrid).
Reunir unas charlas sobre dinosaurios en nuestro país es realmente
difícil
y sobre todo para los interesados a la paleontología es una oportunidad magnífica de poder convivir con investigadores que solo se conocen cuando se dan a conocer nuevos descubrimientos. Si a esto añadimos el cariño y el buen ambiente que rodea a estas jornadas, solo nos queda invitar a todos nuestros lectores. Seguro que no les defraudarán.

LUGAR Salas de los Infantes, Burgos, España
[Descarga el PDF relacionado]
Hay más noticias