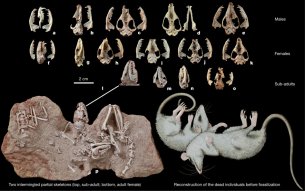 Uno de los grandes problemas en la interpretación del registro fósil es encontrar información que permita reconstruir el estilo de vida y el comportamiento social de los animales. Uno de esas de oportunidades es el yacimiento de Tiupamba, en el que la fosilización de un número elevado de ejemplares articulados solo puede interpretarse como que vivían juntos, y un evento catastrófico los atrapo y los mato juntos. Este evento posiblemente fue una avenida súbita que inundo el área donde vivían, quedando atrapados en el sedimento. En la población fósil hay ejemplares interpretados como adultos machos y hembras (dimorfismo) y subadultos, lo que refuerza de un grupo familiar.
El comportamiento gregario de los mamíferos es muy común, sin embargo muchos de los marsupiales viven de manera solitaria, como las zarigüeyas sudamericanas o los koalas australianas. En sedimentos del Terciario más moderno son comunes las evidencias de gregarismo, como son las icnitas organizadas en rastros paralelos, o la acumulación de yacimientos de gran número de ejemplares de la misma especies. Sin embargo en el Terciario más antiguo, ni el Mesozoico no había evidencias hasta encontrar la acumulación de esqueletos de Pucadelphys andinus
La referencia completa es:
Ladevèze, S., de Muizon, C., Beck, R.M.D., Germain, D., Cespedes-Paz, R. 2011. Earliest evidence of mammalian social behaviour in the basal Tertiary of Bolivia. Nature, 474, 83-86.
LUGAR Bolivia
Hay más noticias