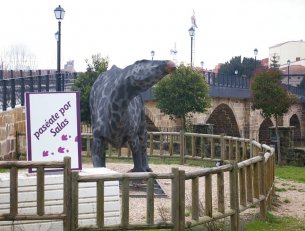 El principal objetivo de las V Jornadas es la presentación y discusión de los avances más recientes sobre Paleontología de dinosaurios y todo lo relacionado con los ecosistemas mesozoicos en los que habitaron.
Estas jornadas están abiertas a todas aquellas personas especialistas o aficionadas que interesadas en los dinosaurios y el entorno en el que vivieron estos maravillosos animales.
A continuación presentamos la lista de conferencias que se realizaran este año en las V Jornadas:
Dra. Else Mari Friis
, Swedish Museum of Natural History
Título de la conferencia: Cretaceous flowering plants: diversity patterns and ecological radiation.
Greg Paul
, Independent palaeontologist and palaeoartist
Título de la conferencia: Iguanodonts, a More Diverse Lot Than We Thought.
Dr. James Farlow
, Indiana University - Purdue University Fort Wayne
Título de la conferencia: Dinosaur Tracksites of the Glen Rose Formation, Paluxy River, Dinosaur Valley State Park, Texas.
Dr. Joaquín Moratalla
, Instituto Geológico y Minero de España
Título de la conferencia: Icnitas de dinosaurios de Cameros oriental: una síntesis paleoecológica y paleogeográfica.
Dr. Jose Luis Barco
, Paleoymás
Título de la conferencia: Implicaciones filogenéticas y paleobiogeográficas del saurópodo Galvesaurus herreroi.
Dr. Octavio Mateus
, Universidade Nova de Lisboa
Título de la conferencia: Dinosaurs and other Mesozoic vertebrates of Angola.
Dr. Paul Upchurch
, University College London
Título de la conferencia: Dinosaur evolution and extinction across the Jurassic-Cretaceous boundary.
Dr. Rodolfo Coria,
CONICET, Museo Carmen Funes (Plaza Huincul, Argentina)
Título de la conferencia: Hadrosáuridos sudamericanos. La geodispersión gentil.
Desde aragosaurus os animamos a asistir a este imprescindible evento
Más información en:
http://vjornadassalas.blogspot.com/
Inscripciones
LUGAR Salas de los Infantes, Burgos
Hay más noticias