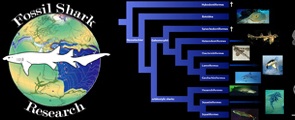 El grupo
Fossil Shark Research (FSR)
esta liderado por nuestro buen amigo y colaborado Jürgen Kriwet, con el que estamos estudiando los dientes de tiburones del Cretácico Inferior de la Cordillera Ibérica. Es un proyecto que comenzó hace unos años, debido a la gran cantidad de dientes aislados de tiburones y rayas que aparecen en algunos yacimientos del Barremiense de Teruel. Kriwet es uno de los mejores especialistas mundiales en tiburones fósiles, y sobre todo tiene una gran experiencia en el estudio de dientes aislados, teniendo publicaciones en las mejores revistas paleontológicas a nivel mundial.


Jurgen Kriwet comenzó su investigación en nuestras tierras hace ya más de una década, resumida en su MsC del año 2001 titulada: "Elasmobranchian remains (Chondrichthyes: Hybodontoidea, Neoselachii) from the Early Cretaceous (early Barremian) of Galve and Alcaine (Province of Teruel): Taxonomy, systematics, biology, biostratigraphy, palaeoecology, evolution, and phylogeny". De una manera más o menos continuada, el grupo de Kriwet suele hacer campañas de prospección todos los años en sedimentos cretácicos y participa en los congresos científicos que se celebran en España. Algunos de los resultados conseguidos los podremos ir viendo en los próximos años.

A partir de ahora iIremos dando a conocer los principales resultados del FSR, como colaborador de Aragosaurus.
LUGAR Berlín, Alemania
Hay más noticias