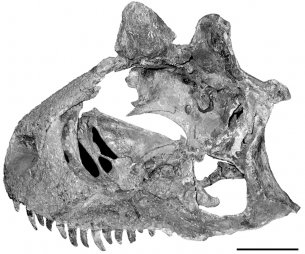 Carnotaurus es un dinosaurio que se ha hecho famoso por presentar dos pequeños cuernos sobre los ojos. Los abelisauridos son un grupo de dinosaurios terópodos de gran tamaño (entre los 6 y 9 metros de largo) que habitaron los continentes godwánicos durante el Cretácico Superior.
El estudio, realizado por Ariana Paulina Carabajal, se centra en la descripción y comparación detallada del basicráneo (la parte posterior del cráneo y que contiene la masa encefálica y que une la cabeza al resto del esqueleto), comparándolo con los restos, más fragmentarios, de los otros abelisauridos conocidos. El detallado estudio permite a su autora establecer una serie de caracteres que son comunes a todos los abelisauridos, a la vez que identificar la variabilidad existente en esta zona del esqueleto entre las diferentes especies. Dado que todos los basicráneos estudiados corresponden a ejemplares adultos, la autora propone que esta variabilidad no es debida a la ontogenia y que por tanto es útil para diagnosticar estas especies.
Finalmente, la autora plantea que es necesaria la descripción minuciosa de nuevo material para poder entender cuál es el valor taxonómico real y cómo se distribuyen estos caracteres entre otros miembros de este linaje.
La referenecia complete es:
Carabajal, A. P. The braincase anatomy of Carnotaurus sastrei (Theropoda: Abelisauridae) from the Upper Cretaceous of Patagonia .
Journal of Vertebrate Paleontology
31(2)
:378–386.
LUGAR Chubut, Patagonia Argentina
Hay más noticias