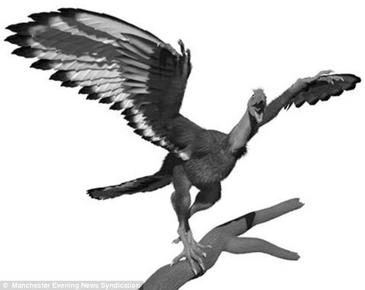 Uno de los fósiles que habían sido sometido a estas técnicas es Archaeopteryx. Tradicionalmente se ha considerado como el ave más antigua. Sus fósiles provienen del Jurásico Superior de Alemania. Algunos de los ejemplares poseen impresiones de aves. Estudios recientes con Rayos X indicaban que serían de color negro. La conclusión entonces había sido que Archaeopteryx era un ave negra.
Un nuevo estudio publicado en Journal of Analytical Atomic Spectrometry, analiza los melanosomas –estructuras microscópicas que contienen el pigmento– de una pluma de Archaeopteryx. Además del color negro ya conocido, también hay evidencias de colores blancos. Este nuevo resultado es consecuencia de un análisis más exhaustivo de la pluma de Archeopteryx. Estas primeras aves poseían un complejo sistema de pigmentación, similar a las actuales. En el caso de Archeopteryx sería un plumaje blanco y negro con un aspecto cercano a la reconstrucción del dibujo
La referencia completa es: Manning, P.L., N.P. Edwards, R.A. Wogelius, U. Bergmann, H.E. Barden, P.L. Larson, D. Schwarz-Wings, V.M. Egerton, D. Sokaras, R.A. Mori & William I. Sellers. 2013. Synchrotron-based chemical imaging reveals plumage patterns in a 150 million year old early bird. Journal of Analytical Atomic Spectrometry, 28: 1024-1030.
Te puedes descargar gratis el pdf.
LUGAR
Hay más noticias