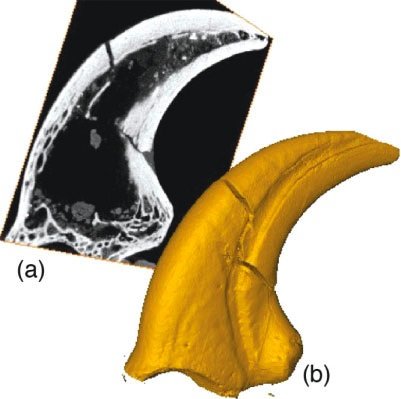 El trabajo recientemente publicado por el paleontólogo inglés P. Manning y colaboradores aborda el problema de estudiar la estructura interna de la garra de los dromeosáuridos y la compara con aves predadoras actuales para comprobar que pudiera ser usada como arma de ataque. Los terópodos dromeosáuridos, como es el famoso Velociraptor, presentan falanges ungueales en el dedo II del pie y en las manos fuertemente recurvadas, hipertrofidadas e hiperextensibles. Esta morfología parece la adecuada para la caza de las presas como proponía Ostrom.
En esta nueva publicación se exploran las propiedades mecánicas de esta estructura a partir de la generación mapas 3D de elementos finitos. A partir evalúan cuantitativamente por primera ve el comportamiento mecánico de una garra de un dromáeosaurido. Usan la misma técnica como una garra de un rapaz nocturna (Bubo bubo). Sus conclusiones refuerzan la propuesta de Ostrom del uso de estas garras en la función de ataque y captura de las presas, incluso de escalar sobre ellas. Por tanto, los pies y las manos de los dromaeosaurios tendrían la función de andar, correr y escalar, así como predar sobre sus presas. Tal y como, había propuesto Ostrom unas fantásticas y adaptadas máquinas de matar.
La referencia completa del artículo es: Manning, P. L., Margetts, L., Johnson, M. R., Withers, P., Sellers, W. I., Falkingham, Mummery, P. M., Barrett, P. M. & Raymont, D. R. 2009. Biomechanics of dromaeosaurid dinosaur claws: application of X-Ray Microtomography, Nanoindentation, and finite element analysis. The Anatomical record, 292, 1397-1405.
LUGAR
Hay más noticias