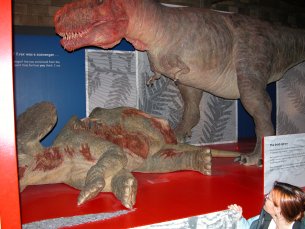 La técnica usada es sencilla, se han realizado medidas en los endocráneos de estos dinosaurios. Se ha obtenido un parámetro que relaciona el diámetro mayor del bulbo olfativo y el mayor diámetro del hemisferio cerebral. A partir de estos datos se obtienen datos cuantitativos de los terópodos estudiados. Los resultados son francamente interesantes, ya que indican que mientras mantenían la dieta carnívora sus capacidades de oler eran notables, sin embargo los grupos de terópodos que evolucionaron en formas con dieta más variada estas capacidades disminuían.
La capacidad olfativa de los tirannosauridos y dromaeosauridos fue grande y tuvo que tener un importante papel en su modo vida, incluyendo la localización de comida o el desplazamiento. El bajo papel del olfato en ornitomimosaurios y oviraptoridos refuerzan la idea de una dieta omnivora de estos terópodos. Los terópodos más cercanos a los ancestros a las aves, como troodontidos o dromaeosaurios, e incluso aves primitivas mantienen una gran capacidad olfativa. Esto significa que la perdida del olfato es un carácter de las modernas y derivadas aves.
La referencia completa es:
Zelenitsky, D. K., Therrien, F. & Kobayashi, Y. 2009. Olfactory acuity in theropods: palaeobiological ane evolutionary implications. Proceedings of the Royal Society B, 276, 667-673.
LUGAR
Hay más noticias