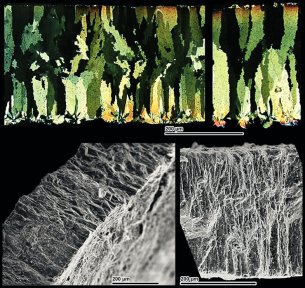 El trabajo, realizado por nuestra añorada Nieves López y por Enric Vicens, de la universidad Autónoma de Barcelona, describe el que es el tercer oogénero definido en España.
Sankofa pirenaica
es un huevo que presenta características intermedias entre los terópodos avianos más derivados y las aves más primitivas. Basándose en su ultraestructura, los autores del trabajo lo asignan a aves enantiornites. Hasta la fecha no se han hallado restos de estas aves en el campano-mastrichtiense pirenaico, donde se han identificado varios taxones de terópodos no avianos, pero considerando lo esquivas que son las aves para el registro paleontológico, los huevos y fragmentos de cáscara de huevo nos permiten deducir su presencia en los ecosistemas finicretácicos, presencia que de otra forma pasaría desapercibida.
Sankofa pirenaica
presenta además una peculiar característica en su estructura cristalina, donde los cristales que forman las unidades de cáscara, típicamente prismáticos como en el resto de los huevos de ave, se entrecruzan hacia la parte superior de la cáscara, lo cual le confiere una estructura excepcionalmente rígida. El trabajo se completa con un estudio de la forma de los huevos que permite a los autores confirmar las afinidades avíanos del huevo.
La referencia completa del trabajo es:
NIEVES LÓPEZ-MARTÍNEZ & ENRIC VICENS. 2012. A new peculiar dinosaur egg, Sankofa pyrenaica oogen. nov. oosp. nov. from the Upper Cretaceous coastal deposits of the Aren Formation, south-central Pyrenees, Lleida, Catalonia, Spain.
Palaeontology
, 55(2): 325-339.
DOI: 10.1111/j.1475-4983.2011.01114.x
LUGAR Lleida, España
Hay más noticias