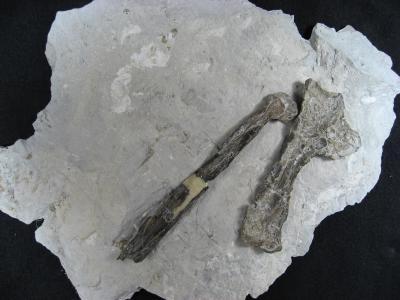 Pteranodon

es un pterosaurio que carece de cola. Su cabeza presenta una prolongación a modo de cresta. Su parte anterior tiene forma de pico y carece de dientes. Esta morfología y el haberse encontrado generalmente en rocas marinas parece indicar que era de hábitos piscívoros. Algunos representantes de Pteranodon alcanzaron gran tamaño, que pudo ser ocho o nueve metros de envergadura. Anteriormente, huesos de Pteranodon se habían encontrado en Kansas, Dakota del Sur y Wyoming. Estos restos son probablemente los primeros de este taxón que se encuentran en Texas, según el investigador Timothy S. Myers, de la Southern Methodist University en Dallas. El ejemplar es de un pterosaurio adulto con una envergadura de 3,6 a 4 metros.


Entre las piezas recuperadas se encuentra el húmero. Se trata de un hueso bastante diagnóstico en los pterosaurios, lo que permite identificar con él géneros e incluso especies. La morfología del húmero de Tejas, especialmente de la cresta deltopectoral, lo relaciona claramente en la familia Pteranodontidae, y dentro de ella en
Pteranodon
.
Más información en la
web de la Southern Methodist University
La referencia completa es:
Myers, T.S. 2010. "Earliest Occurrence of the Pteranodontidae (Archosauria: Pterosauria) in North America; New Material from the Austin Group of Texas" Journal of Paleontology; 84, 6, 1071-1081.
LUGAR Tejas, EE.UU.
Hay más noticias