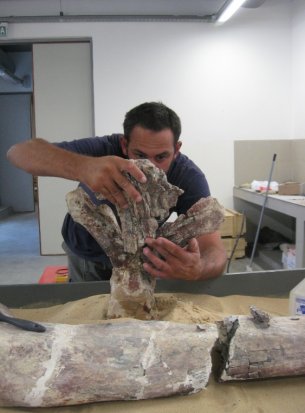 Los rebaquisáurios representan a un grupo que debería encontrarse en el registro fósil desde el Jurásico Superior, sin embargo su registro esta restringido al Cretácico Inferior y al comienzo del Cretácico Superior. En el Cretácico Inferior se ha descrito Demandasaurus (Salas de los Infantes, España), Histriasaurus (Italia), Nigersaurus (Niger), Zapalasaurus (Argentina) y Amazonsaurus (Brasil). En el nuevo trabajo se describe Comahuesaurus windhauseni a partir de material inicialmente incluido en Limaysaurus, un genero del Cretácico Superior de Argentina. Comahuesaurus se excavó en la Formación Lohan Cura de edad Aptiense – Albiense en el sur de la Provincia de Neuquén. El estudio de material sin describir de este taxón ha permitido encontrar diferencias significativas con Limaysaurus. El nombre genérico hace referencia a la denominación en Mapuche del área donde se encontró el fósil. El nombre específico a Anselmo Windhausen, por su contribución al conocimiento geológico del norte de la Patagonia.
Comahuesaurus se encontró en una acumulación de huesos ("bone beds") en el que estarían representados tres individuos, al menos. Los huesos se encontraban desarticulados. Prácticamente están representados todos los elementos del cuerpo, excepto el cráneo y las vértebras cervicales. El elemento mejor representado son las vértebras caudales, con 35 piezas. En la fotografía se puede ver a José Luis Carballido estudiando una de las vértebras.
Los rebaquisáurios representan el grupo más primitivo de los saurópodos diplodoideos, en los que se encuentran taxones tan conocidos como Diplodocus. Los rebaquisáuridos son los miembros más primitivos y que tuvieron una gran diversificación en Sudamérica. Estamos lejos de conocer bien su historia filogenética, pero se han hecho importantes avances. Así sabemos que hay dos subfamilias, Limaysaurinae (sudamericana) y Nigersaurinae (africana-europea). El aporte del nuevo trabajo es que Comahuesaurus sería el tronco común a estas dos subfamilias. Esto permite proponer la hipótesis que los rebaquisáuridos evolucionaron en Sudamérica diversificándose en el Cretácico Inferior por el resto de Gondwana y por Europa. Sin duda un trabajo fascinante y que nos aporta más información sobre las conexiones ibero-patagónicas con dinosaurios.
Os adjuntamos el resumen original: Despite that the origin of rebbachisaurids is retrieved as Late Jurassic is not until the upper Lower Cretaceous that this group can be recognised in the fossil record. The group is geographically restricted to Gondwana and Europe, and is particularly diverse in the lower Upper Cretaceous of South America. In this subcontinent, Early Cretaceous forms are solely represented by Amazonsaurus and Zapalasaurus, being the former the putative basalmost rebbachisaurid known. Here, we provide a revised description of the sauropod from the Lohan Cura Formation (Aptian–Albian) that was previously identified as Limaysaurus sp. The new information available (mainly based on new elements) allows us to recognise a new taxon, Comahuesaurus windhauseni gen. et sp. nov. The phylogenetic analysis carried out retrieved this taxon as a relatively basal form of rebbachisaurid, well separated from Limaysaurinae. In this phylogenetic context, the new taxon revealed the presence of a reduced hyposphene–hypantrum system in rebbachisaurids more derived than Histriasaurus, which is completely lost only in Limaysaurinae. Finally, a biogeographical scenario for rebbachisaurids is analysed through the use of a Dispersal, Extinction and Cladogenesis analysis, which retrieves a South American origin for this linage, and a fast dispersion to Africa and Europe during the Hauterivian–Barremian.
La referencia completa es: Carballido, J., Salgado, L., Pol, D., Canudo, J.I., Garrido, A. 2012. A new basal rebbachisaurid (Sauropoda, Diplodocoidea) from the Early Cretaceous of the Neuquén Group; evolution and biogeography of the group. Historical Biology, 24, 6, 631-654.
LUGAR Neuquén, Patagonia, Argentina
Hay más noticias