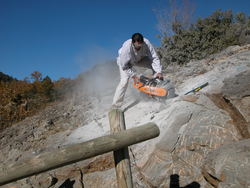 Por una curiosa coincidencia, la convocatoria de una mesa debate sobre las salidas profesionales de licenciados en Geología ha coincidido con la comunicación, a través del foro de Paleonet, del Profesor Norm MacLeod, Conservador de Paleontología en el Natural History Museum de Londres. MacLeod nos envía una nota a través de Paleonet que queremos resaltar aquí por su positiva visión sobre el estado profesional de la paleontología en el mundo.
Transcribimos aquí el comentario de Norm MacLeod:
I've just updated the PaleoNet Jobs Page. You can access that through the main PaleoNet web page (
http://www.nhm.ac.uk/hosted_sites/paleonet/
) ordirectly at:
http://www.nhm.ac.uk/hosted_sites/paleonet/Jobs/Jobs.Html
. Thegood news is that I don't recall ever having listed so many palaeo. posts onoffer. To be fair, a number of these are summer internships. But there arealso a large number of professional positions at all levels. And I know of several additional searches that will be announced shortly (and listed on PaleoNet in due course). Can't be a bad sign. If you know of a palaeo. post search that is taking place and not listed on PaleoNet please let me know about it.
Si alguien entra en esta página de Paleonet podrá comprobar que se ofrecen desde becas o contratos pre- y post-doctorales en el recién estrenado Institut Català de Paleontología de Barcelona, hasta puestos de trabajo estables en diversas Universidades y Centros de Investigación, de Norteamérica fundamentalmente.
Desde aquí en aragosaurus os animamos a acudir al debate sobre la profesión de la Geología que tendrá lugar mañana 13 de marzo, en el Salón de Actos del Edificio C (Geológicas) a las 12 horas. Como vemos en el cartel, serán conocidos profesionales, licenciados en Geología en su mayoría, quienes nos comunicarán su experiencia.
LUGAR Zaragoza, España
[Descarga el PDF relacionado]
Hay más noticias