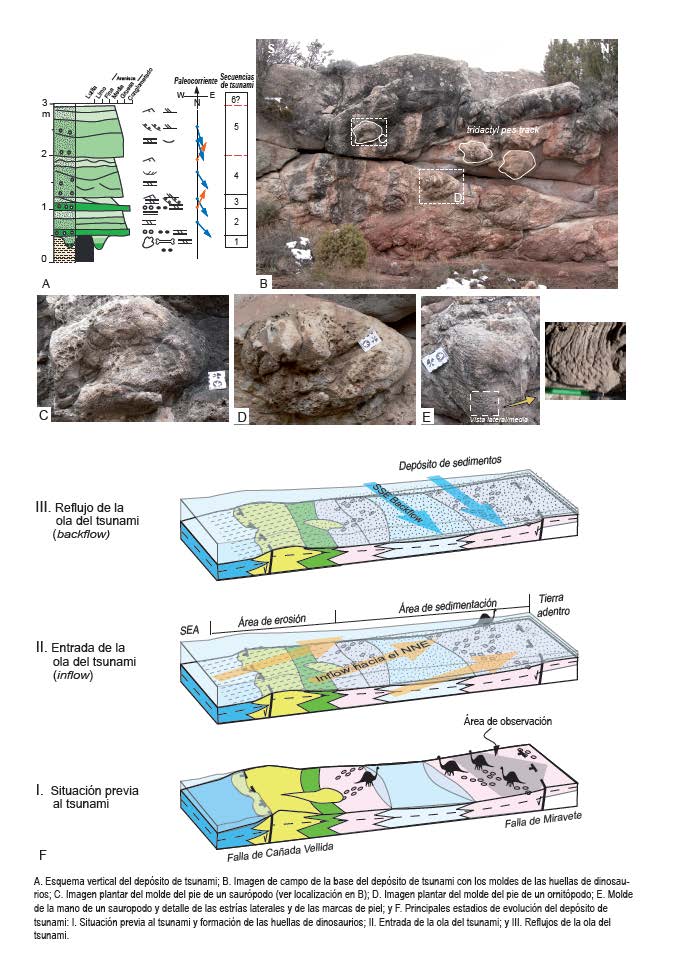 Los megayacimientos de icnitas de dinosaurios suelen ser formaciones rocosas con gran cantidad de pisadas de estos animales distribuidas en cientos de miles de años, o dicho de otra manera en diferentes estratos. Sin embargo una investigación liderada por Rocío Navarrete ha permitido documentar un solo estrato que se sigue durante kilómetros con icnitas de grandes dinosaurios. Este estrato se encuentra entre las localidades de Aliaga y Miravete de la Sierra en Teruel (España).
El estudio en detalle del nivel fosilífero recientemente publicado en la prestigiosa revista Sedimentary Geology demuestra que presenta una litología muy particular, similar a la producida por los grandes tsunamis acaecidos en las últimas décadas.
La zona de Aliaga-Miravete hace 128 millones de años era una zona costera con una barra de arena que la separaba de mar abierto, lo que se conoce en geología como una isla-barrera. Un lugar por donde se desplazaban grandes dinosaurios como saurópodos y ornitópodos, como demuestra la gran cantidad de icnitas que hay en las rocas. Un terremoto que se produjo en el fondo marino produjo una ola de gran tamaño que cubrió por completo la isla-barrera, erosionándola e incorporando al flujo gran cantidad de partículas de arena. La ola cargada en arena se adentró tierra adentro algunos kilómetros, fue perdiendo energía y produciéndose el depósito de la arena que fue enterrando por completo a todas las pisadas de dinosaurios que estaban expuestas.
Es algo fascinante. Un tsunami es un proceso natural de gran poder destructivo capaz de arrasar todo lo que se encuentra en su camino, pero en este caso fue el responsable de conservar un megayacimiento de icnitas y quizás atrapar a algún dinosaurio, aunque por el momento no lo hemos encontrado.
La Referencia completa del trabajo es:
Navarrete, R., Liesa, C.L., Castanera, D., Soria, A.R., Rodríguez-López, J.P., Canudo, J.I. 2014. A thick Tethyan multi-bed tsunami deposit preserving a dinosaur megatracksite within a coastal lagoon (Barremian, eastern Spain), Sedimentary Geology 313, 105-127.
El resumen original de la publicación es el siguiente:
A thick multiple-bed tsunami deposits consisting of sandstones and conglomerates has been discovered and investigated in the Camarillas Formation (~130.6-128.4 Ma, Barremian age) in eastern Spain. The tsunami deposit is interbedded within red mudstones deposited in mud flats of a back-barrier system. It crops out along seven kilometres in length and at its base a great number of dinosaur tracks assigned to sauropods, ornithopods and theropods have been preserved as natural casts; then constituting an exceptional regional megatracksite associated with tsunami deposits. On the basis of sedimentological features and the lateral and vertical architecture of the involved lithofacies, up to five couplets of inflow-backflow deposits, formed by a tsunami wave train, have been recognized overlying the tracks. Although sedimentation mainly took place during backflow currents, inflows led to the removal of sand from a fronting barrier island and the rip-up of lagoonal carbonate and clay pebbles, depositing them in the protected back-barrier lagoon. Its unusually great thickness is interpreted, among others, as being the result of the filling of the previous low topography of the back-barrier lagoon.
LUGAR Teruel, España
Hay más noticias